Blog
How Adila Utilizes TilesView For Growing Ceramic Business
How Adila Utilizes TilesView For Growing Ceramic Business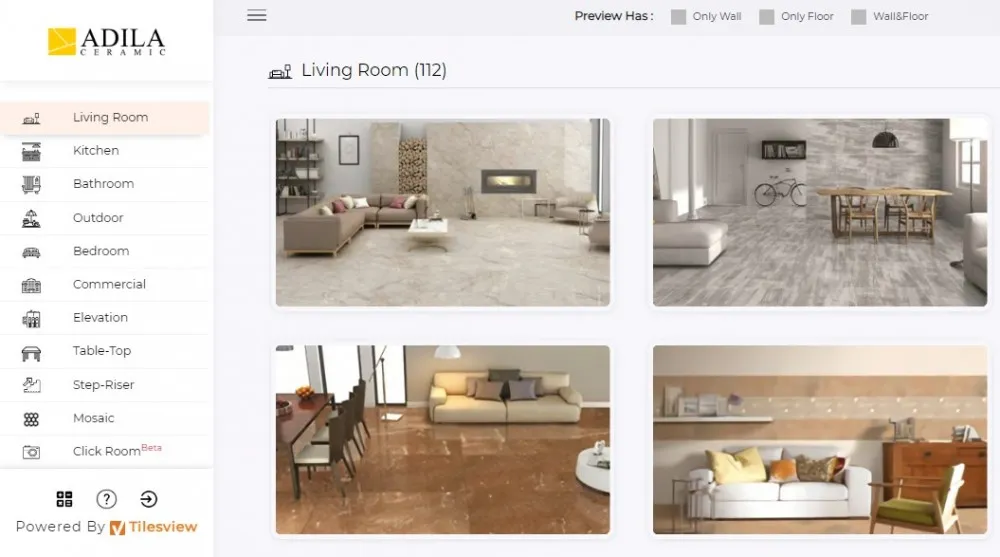 Introduction
Adila Ceramics brings to you the amazing craftsmanship to redefine the art of tiling! You are invited to the realm where tiles speak the style to you, as every surface speaks a different story. Adila Ceramics is the lead manufacturer in the business of tiles, from luxurious porcelain to a multiple variety of tiles to trendy vinyl or SPC tiles.
How does Adila Ceramics catch the hearts of its customers in this constantly changing world? Look no further because Tilesview is here for you.
The innovative solution of the visualizer tool from the Tilesview brings customers of Adila Ceramics their wildest dreams into the reality of their dreams.
Let us show you how Adila Ceramics is harnessing the magic of TilesView to rise above the tiles competition market. Be prepared to be surprised to set high on the journey where your creative imagination meets reality now. Tiles are not just the adaptation of comfort for your home but are rather something more. Let's move further into the topic.
The Power of TilesView: Revolutionizing the Tile Industry
Tilesview is the central hero of the field of ceramic businesses, which breaks the pattern of the boring process of choosing tiles. Tilesview is all set to bring revolution in the field of the tiles industry! A famous tile manufacturer, Adila Ceramics, harnessed the power of Tilesview to rise up high in the field of tiles competition.
You can say goodbye to the good old days when you had to imagine and do the guesswork of how the tiles would look after applying the tiles to your house floors and walls. This revolutionary tool called tile visualizer breaks free from the traditional practice of buying tiles and transforms them in a more advanced manner. This enhances the purchase experience and also raises its sales.
CHECK TILESVIEW FROM A BUYER'S VIEW
Adila Ceramics even benefits from the seamless integration of TilesView into their personal website. Due to its user-friendly features and its sleek design interface, Tilesview instantly catches the customers' attention. Tile buyers can now explore a large fair of tile viewing options for building their dream homes. They can break the limiting physical grounds and get the expansion of Adila Ceramics' global reach.
TilesView does the two major tasks of bringing in the leads and also the task of creating amazing catalogs as well. Tile manufacturers don't need experts anymore to create tile catalogs for them anymore. In a matter of a few clicks, Adila tiles are displayed in a wide range of catalogs. Tilesview brings Adila Ceramics, a tile manufacturing company, the ability to brand itself as a branded company to display exceptional products through Tilesview. And also displays the branded tiles on various other platforms.
To see the power of Tilesview, you can now join Adila Ceramics, too. Bid farewell to the uninspiring tile viewing experiences and view them visually instead. Wouldn't that be a good idea? Let Tilesview take your business to an advanced level, that too, with one tile visualization at a time.
How TilesView Benefits Adila Ceramics
In order to discover the secret of the amazing success of Adila Ceramics in the field of selling tiles in the tiles industry, Tilesview is the online platform for you.
Adila Ceramics has unlocked a world full of opportunities to gain heights of tile selling business.
Convenience for Prospective Clients
Adila Ceramics knows that it can be a challenging task to reach out to many customers. This is where Tilesview comes to such a brand company's rescue.
The potential clients of tiles can explore Adila's stunning tiles collection while sitting on the couch of their home. Breaking the geographical barriers and creating a global customer base!
Lead Generation and Conversion
Tilesview gives an astonishing experience to its users with its stylish-looking visual display of tiles. This tool, unlike any other tool, generates new customer leads in a smooth and flowing way. Adila Ceramics can easily convert these newly generated customer leads into sales. Tilesview provides customers with a bumper-free journey to viewing a large variety of tiles in a smooth manner.
Effortless Cataloging
The painful and time-consuming days are gone, and experts were appointed to create catalogs for tile companies. Adila Ceramics enjoys a relaxed business life while Tilesview does half of their majority tasks. This, from a business point of view, is a highly beneficial technique to employ the Tilesview tool for doing the task of reaching and bringing tile-buying customers in focussed traffic towards Adila Ceramics by using the visually created professional and stunning visual tile viewing catalogs.
Branding and Advertisement
TilesView has taken the branding of Adila Ceramics to an advanced level. The digital display of tiles with the uniqueness of every different tile, including the company's logos as well as a variety of designs, gives an edgy streak to tile companies like Adila Ceramics. The versatility of Tilesview informs customers about new and trendy tile designs through various communication platforms. Also, it has a creative display of tiles.
Tilesview is the mystery weapon to stay ahead in the game of tiles industry, and Adila Ceramics knows that. Tilesview is an expert tool in the visual display of one tile at a time in a creative format.
Conclusion
To summarize it all, Adila Ceramics uses the milestone technology of Tilesview to stay ahead in the tile industry. To set itself apart from other tiles business competitors, Adila Ceramics uses the visualization power of Tilesview to look through as many tiles as customers would like to see.
By coming to Tilesview, customers can set on a journey of tiles viewing online from the comfort of their homes. They won't have to visit traditional stores. The customers can view and explore the good quality tiles that have been visually showcased officially on the Tilesview tool, while the Tilesview can turn the viewer customers into tile-buying customers.
Hence, why should you limit your tile business to just a physical shop when you could unlock the door of a new world of possibilities with Tilesview?
Adila Ceramics can become your road light to joining Tilesview and walk a cakewalk to expand your Tile business, just like Adila Ceramics. You can always reach out to TilesView experts, and together reach beyond the geographical boundaries to set out on an online journey of viewing tiles online digitally and giving the customers the convenience of deciding the tiles by visually seeing tiles online, and Adila Ceramics is doing just that.